The Celestron Professional Computerized Series (CPC).
The CPC Series with revolutionary SkyAlign Alignment Technology redefines everything that amateur astronomers are looking for — quick and simple alignment, GPS, unsurpassed optical quality, ease of set-up and use, ergonomics, enhanced computerization and, most important, affordability.
The Celestron CPC-800 also includes NexRemote Control Software which allows full control from a lap top or PC. NexRemote provides full emulation of every aspect of the computerized hand controller plus much more.
CPC-800 XLT Specifications...
Aperture: 203mm (8")
Focal Length: 2032 mm ƒ/10
Eyepieces: 40mm (51x)
Finderscope: 8x50
Coating: Starbright XLT.
Weight: 61 lbs.
CPC-800 Features...
Re-designed drive base and drive mechanics:

Quiet operation.
Large drive gears.
Quick release clutch.
Auxiliary ports for AutoGuider, PC.
Easily mounts to tripod.

SkyAlign Alignment Technology — simply choose three bright celestial objects, the telescope does the rest.
Convenient remote hand control holder — Allows you to view information hands-free while using the scope.
40,000+ object database.
Flash upgradeable hand control software and motor control units.
Easy to locate over-sized clutching knobs on both axes for manual use.
All-metal quick release finderscope bracket with spring loaded pivot and easy to use x-y adjustment screws.
Ultra-wide 9.8 inch bearing track drive base provides smooth stable tracking at any rate.
Ergonomic design — comfortably lift and move the telescope from location to location.
Permanent Periodic Error Correction (PPEC) — once periodic errors are recorded for elimination, the telescope maintains the recording even when turned off.
Includes NexRemote Telescope Control Software.
Newly designed heavy-duty tripod with accessory tray center leg support bracket for rock stability; spring loaded mounting screws and recessed mounting platform for quick setup.
Internal GPS
The CPC series' internal GPS receiver automatically downloads the date and time from orbiting satellites and pinpoints its exact location on Earth. This eliminates the need for you to manually enter the date, time, longitude and latitude.
Celestron's Revolutionary SkyAlign
The CPC Series' internal GPS has established the telescope's position, aligning the telescope is as easy as 1-2-3!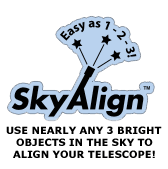 Simply locate and manually slew the telescope to three bright stars of your choosing. You do not need to know the names of the stars -- you could even pick the moon or bright planets! Celestron's NexStar® software technology will model the night sky to determine the position of every star, planet, and celestial object above the horizon. Once aligned, the remote hand control allows direct access to each of the celestial catalogs in its user-friendly database.
Celestial Object Database.
The CPC database contains over 40,000 celestial objects including Messier objects, the Caldwell Catalog, as well as NGC Galaxies, nebulae, and planets. User-definable filter limits make navigating through this expansive database quicker and easier. When using the "filter limits" feature, only those objects that are above the horizon are displayed for your exact date, time and location.
Complete CPC-800-XLT includes...
8" Schmidt Cassegrain, 2032mm focal length (ƒ/10), Starbright XLT coatings.
Computerized hand control with 40,000+ object database and NexStar Technology.
Global Positioning System (GPS) built-in.
Heavy duty, adjustable height tripod with leg brace/accessory tray.
40mm Plossl eyepiece (51X).
9 x 50mm finderscope with quick-release bracket.
SkyAlign Alignment Technology.
1.25" Star diagonal — 90° eyepiece holder.
1.25" Visual back — for accessories.
Car battery adapter.
NexRemote Telescope Control Software and RS-232 Cable.
Two year manufacturer's warranty.
Specifications...
Optical Tube Info:

Optical Design: Schmidt-Cassegrain
Aperture (mm): 203.2 mm (8 in)
Focal Length: 2032 mm (80 in)
Focal Ratio: 10
Focal Length of Eyepiece 1 (mm): 40 mm (1.57 in)
Magnification of Eyepiece 1: 51 x
Finderscope: 8x50 Finderscope with quick release bracket
Star Diagonal: 1.25

Mount Info:

Mount Type: Dual Fork Arm
Accessory Tray: Leg Brace / Eyepiece holder
Tripod: Heavy Duty Steel Adjustable

Power Requirements: Car battery adapter
Highest Useful Magnification: 480 x
Lowest Useful Magnification: 29 x
Limiting Stellar Magnitude: 14
Resolution (Rayleigh): 0.69 arc seconds
Resolution (Dawes): 0.57 arc seconds
Light Gathering Power (Compared to human eye): 843 x
Apparent Field of View: 0.8 °
Linear Field of View (@1000 yds): 42 ft (13 m)
Secondary Mirror Obstruction: 2.5 in (64 mm)
Secondary Mirror Obstruction by Diameter: 31%
Secondary Mirror Obstruction by Area: 9.77%
Optical Coatings: Starbright XLT Coating
Total Telescope Kit Weight: 74 lbs (34 kg)
Tracking Rates: Sidereal, Solar and Lunar
Tracking Modes: Altazimuth, EQ North and EQ South
Alignment Procedures: SkyAlign, Auto Two-Star Alignment, Two-star Align, SolarSystem Align, EQ North Align, EQ South Align, One-Star Align
Periodic Error Correction: Permanently Programmable
Communication Ports: RS-232 communication port on hand control
Computer Hand Control: Flash upgradeable, double line, 16 character Liquid Crystal Display; 19 fiber optic backlit LED buttons
Database: 40,000+ objects, 100 user defined programmable objects. Enhanced information on over 200 objects
GPS: Internal 16 channel
Warranty: 2-year Telescope Warranty